Hey guys, happy Thursday!
I am incredibly excited to share this post with you all (although I have been nervous out of my mind to write it!) I had the unrivaled honor of attending the Kina Grannis concert, at "The Birchmere" in Alexandria, Va. The concert was last Monday and I remember being so excited, anxious and blissfully unaware of the stupid grin I had worn all day leading up to the concert! Through the entirty of the performance, until I went to sleep…quite honestly. I am a "new" fan of Ms. Grannis, I discovered her via Google+, while I was in the hospital. I could not be more grateful now looking back, that I clicked on that 'recommended' button! She is a natural, raw and powerful talent…a true artist! She's a singer, songwriter, producer, performer, artist, songstress, a tiny songbird with a big voice! Her songs evoke such emotion, it's all most as if it is palpable with each verse, each bridge, each chorus, she utters into the universe, dancing along on the meledies she strums with her guitar (PLUS: she and her band have great synchonicity!) Anyway, I don't want to spend my entire post trying to describe what it is, means or feels like to be in the presences that is "Ms. Kina Grannis", so I will just have to show you a little bit of my experience.
Here is a look…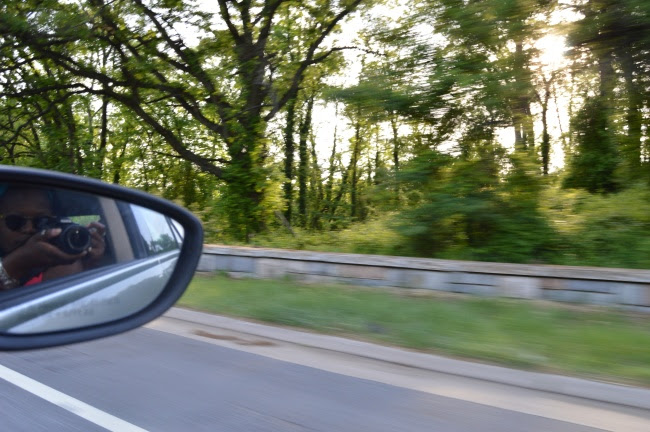 On the way!
"The Birchmere"
Ms. Colbie Caillat + Mr. B.B. King!
Kina's opening act was a talent by the name of Jesse Epstein aka: Imaginary Future (I LOVE that stage name). Imaginary Future is a strong lyrical, deeply moving, capitvating and stoic musician…which is probably why is music is so rich with the realities and the moments in life the heart endures. He was an absolute pleasure to watch and experience, as he serenaded the entire audience with his acoustic set, into dumb-founded ahhh! P.S.: He was also smart enough to "put a ring on it" and he is the other 1/2 to the lovely Ms. Kina! Next up, Ms. KINA GRANNIS!
I had video snipits of both her and Imaginary Future's performance, but for whatever reason I am unable to import them into this post. Anyway, she was gracious enough to indulge the audience and she played 3 or 4 encore songs, I do believe.
Here are some cheeky quotes she shared with us during her performance:
"I always struggled with the idea of impermanance." ~ Kina Grannis (song: "Forever Blue", inspired by her grandfather's passing)
"There are your faces, nice to meet them." ~ Kina Grannis (referring to having more lighting, abling her to see her audience)
The line and well worth the wait!
Imaginary Future and I. He was so kind and very approachable. Is it weird, that I think I fell "in love" with both him and his wife, that night?! That was probably an overshare, but who cares…THIS IS MY BLOG! P.S.: Sorry the quality of these photos aren't the best.
That ENTIRE night, will FOREVER be burned into my brain as one of the loveliest experiences I have ever had!!! Kina was warm and incredibly easy to talk to! I told her about how I had wanted to bake her something, but ran out of time. So, I asked her about what kind of baked goods she enjoys and she told me, then I promised to bring her something original. I will create some kind of confection called the "Kina" and bring it to her, at her next show in the "dmv" area, in the fall. I look forward to that moment!!! She was so generous with herself and time for each and every fan who waited to see/meet her! I would like to say, "Thank you!", to Kina Grannis, Imaginary Future and her band for an amazing, one-of-a-kind experience, that I will carry with me and cherish for the rest of my life! Gosh I am sappy!
Both Kina's and Imaginary Future's weblinks:
http://www.imaginaryfuture.com/
You can purchase both of their new albums on iTunes and you can follow + like their respective social media. Everythink from YouTube, Facebook, Twitter and Instagram. I have!
Until next time you guys!
P E A C E + L O V E + B A K I N G
E