Hey guys, happy Wednesday!
This weekend I wanted to keep things simple, but always looking for a little fun. I'm 24 years old, which means no matter how fortunate may or may not be, money is always something I am conscience of. I've always been told I was 3 going on 30, an old soul, wise before my time, etc. I have a deeply nostalgic spirit, as grateful as I am for the modern conveniences of today (hint…the iPhone I am using to write this post) I love learning and seeing how things were before, getting a sense of where it all comes from. Now, to tell you about my weekend without getting too sidetracked…I do that sometimes, get lost in my head, take a walkabout in my thoughts. Anyway, this weekend I decided to take a trip to Georgetown, and the result was utterly lovely.
On Saturday: The first stop was the Washington National Cathedral's 75th "Flower Mart" celebration, which hosted all kinds of wonderful vendors! Then off to walk around Historic Georgetown. We saw the canals, great boutiques, good coffee…very important, visited 2 famous cupcake bakeries or cupcakeries…whatever you want to call them. The last stop was SWEETGREEN! Ohh, how I love SweetGreen!
On Sunday: I started my morning with a little reading, then it was off to my standing morning coffee date with the old "Padre". Then, I reviewed inventory and discovered I was short some basics. Although, I usually receive my boxes and such via an online company, this weekend my shipment wouldn't be here for a large order I have, for "Nurse's Week"!
Here's a look…
Saturday:
Flower Mart:
That clothing was made of 100% Alpaca
This is Alex and he worked the "Dress It Up Dressing" booth. He was a charismatic and pleasant individual. I had a chance to sample the product and it was delightful and unique. You can find Dress It Up Dressing at MOM (My Organic Food Market) or www.dressitupdressing.com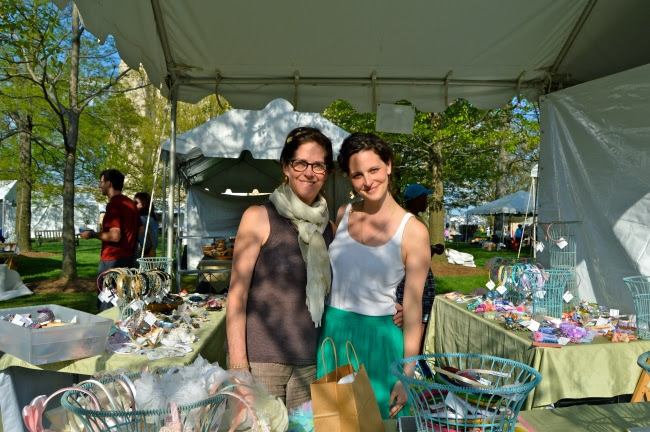 This is Maria and her mother Andrea. Andrea is the owner and designer of Andrea's Beau and Maria is her inspiration. They sell handcrafted, beautifully designed and original head ornaments. My dad bought my niece a head band, which was decorated with crocheted floral accents and delicate little butterflies. It was the perfect choice for her and she LOVED IT! Check out, http://www.andreasbeau.com!
 Lastly, this is Michael. He owns Booda Boutique and they make handmade soaps, which smell EVEN better than Lush! He was so nice and told us all about the Eastern Market, where they also have a booth. You can find out more at their website www.boodasoapbox.com.
Historic Georgetown:
This duck was something else, it was ducking (LOL), shimmying and full on twirling.
A cute pathway of steps…it's the little things!
I thought this restuarant what too adorable, quaint and really well decorated!
Who doesn't like a reminder of a some-what contrived, yet lovey "Romantic Comedy". I mean, honestly who cares…it's Kate Beckinasle!!!
We stopped by Sprinkles..didn't get anything, but it looked nice. Do you see what I see…?
More canal…
KITCHEN STUFF!!!
Dean + Deluca, I bid you farewell. You were fabulous and I shall see you soon!
And then there was Georgetown Cupcakes, aka…DC Cupcakes. Also, take a look at that line.
As the sun went down we headed over to Labyrith Park.
Cady's Alley: This little gem was hidden away.
The most delightful little SweetGreen you will ever come across. It was a certified "green restaurant"! There is Padre…again (LOL)
Goodnight and goodbye, Georgetown! Let's do this again soon and next time, maybe a drink at one of your several pubs!
And this is Jermaine. He was honestly one of the coolest people I have ever encountered, so laid-back, so chill!
I got the "Spicy Sabzi" salad…DELISH! I substituted garbanzo beans for the Tofu.
Sunday:
The essentials!
Stocking up!
Michael's always brings back memories of my nana, Winnie, clear as day. Now off to JoAnn's!
One of my many "happy places"!
I hope you guys like the post, I know I like sharing things with you!
P.S.: So sorry this took so long to post, it was meant for Monday. You would not believe the technical difficulties I dealt with. Anyway, see you tomorrow for a look at how things were today here at WinniE's Bakery.
P E A C E + L O V E + B A K I N G
E